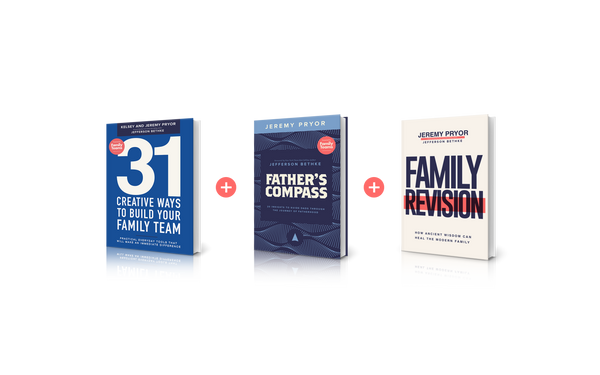 31 Creative Ways to Build Your Family Team + Father's Compass + Family Revision Bundle
Regular price
$60.00
Sale price
$45.00
---
31 Creative Ways to Transform Your Family
31 Creative Ways is a book by us that has incredibly practical, wise tips and parent hacks that you can incorporate into your family to transform it. The subtitle is 'practical everyday tools that will make an immediate difference.' It's a useful and practical guide to help us elevate and support our families. You also get 31 corresponding videos for the entire book from the Pryors!
Father's Compass
Father's Compass is 20 fatherhood insights to guide dads through the journey of fatherhood. If you ask fathers today why they are a father, or what the importance of it is, most of us can't answer. We might want to be intentional, yet don't have a framework for fatherhood that's helpful to us when we need it. This book lays out 20 different fatherhood insights and truths that help unlock your vision and potential for what it means to be a father.
Family Revision
Family Revision is a book written by Jeremy Pryor and is a 50,000-word book (which is the same length as Love that Lasts or Jesus > Religion) where he tells his story of being a Western dad 20 years ago and finding a better model in the classical Biblical model found in Scriptures.
Change the Course of Your Family Forever, Today!
Have you felt that nudge in your family that something isn't right? Or that you wanted or sensed there was more but wasn't sure what or how? Us too, and that's why we created this masterclass. To systematically walk you through God's big and great design for family teams on mission, and how that starts with a father catching the vision as the leader of his home. Start today and investment in your family forever!
---